Hi, I'm Michael Robinson.
Writing to you directly – unfiltered, unedited, and off the record.
By now, I don't have to remind you of the lasting effects 2020 has brought to us.
We've all been affected.
Though I'm certain our nation will make it through, stronger than ever.
But as optimistic as I am, this isn't a pep talk…
I'm here today because I want you to be on the fast track to staggering windfall.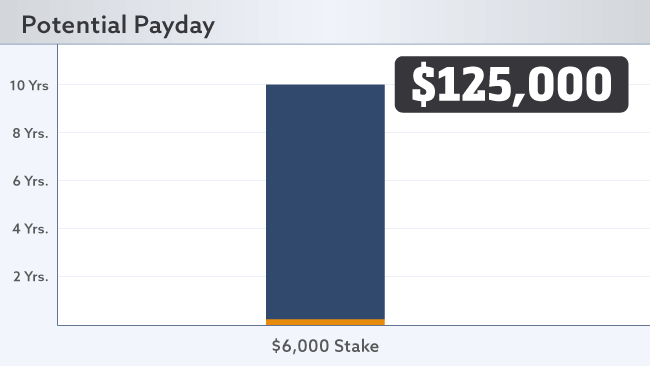 Not through buying blue-chip stocks at fire-sale prices or shorting the market…
But through a new investment opportunity that allows you to capitalize on the one thing that has enabled you to get through the pandemic…
The one thing that you now have to rely on every second of the day: THE INTERNET.
For the record…
I don't want you to go out and buy shares of wireless providers like Comcast or Verizon.
I don't want you to buy online retail stocks like Amazon or Wayfair.
And I don't want you to become an angel investor for smart apps.
This Investment Has NOTHING to Do with Buying Companies That Benefit from the Internet…
But Rather the Internet Itself.
Confused? Let me clarify.
During the pandemic…
Most of us haven't even left our homes…
And yet, thanks to the internet, you've managed to survive.
You can still transfer money…
Talk to your doctor…
Work from home…
Communicate with your peers…
Buy household goods…
Order groceries…
Get medical supplies…
Send and receive emails…
Check up on your loved ones…
Watch movies…
Listen to music…
Invest in the market…
And most importantly, stay informed about what's happening in the world.
You may disagree, and that's fine.
Maybe you're one of those MacGyver types…
Who hunts for your own food…
Keeps all your money in a safe…
And lives off the fat of the land…
I'm not.
Chances are, you aren't either.
Like most Americans, you likely spend more than six hours a day on the internet – accessing the web every 10 minutes.
And there's nothing wrong with that.
The Internet Is Your Link to the Outside World – Now More than Ever Before.
Why do you think stocks like Teladoc, Blue Apron, and Zoom have exploded by 673%, 290%, and 155%...
While virtually every other company has fallen off the deep end?
I'll tell you why…
These companies have seen the future…
A future where everything from business meetings, college courses, and medical consultations to happy hours, movies, concerts, even star-gazing tours are streamed online, directly from your smartphone.
And don't think for one second that when things return to normal…
This trend will somehow reverse itself.
IT WON'T.
This is the direction humanity has been moving in for years.
The coronavirus has only accelerated this trend dramatically.
It's awoken us to the fact that we don't have to go to a doctor's office to speak with a physician.
We don't have to walk aimlessly through a grocery store to buy food.
We don't have to drive around from one place to another to purchase household goods.
By downloading a few apps on our phones, we can do everything online.
There's Only One BIG Problem.
Just as You're Relying on the Internet to Get You Through Each Day…
So Is Everyone Else.
Since the crisis started in March, there's been…
A 60% increase in data usage…
An 85% bump in video streaming…
A 300% surge in teleconferencing…
A 400% jump in online gaming…
An 850% rise in the number of people working from home…
And just as our public health system has become strained because of the coronavirus…
So is the internet – especially between the hours of 7 p.m. and 11 p.m.
That may be hard for you to believe…
Especially if you're not having any problems scrolling through your Twitter feed, FaceTiming with relatives, or streaming movies off Netflix.
But the fact is the internet has been put under tremendous stress.
The Internet Needs an Upgrade, and Fast…
According to a new report from the largest database of broadband providers:
88 out of the 200 most populous cities in the nation have seen their internet speeds tumble by 44%...
Verizon has seen major outages across New England and other parts of the country…
18 million households reportedly have no internet at all…
That's 42 million people with no Wi-Fi…
And see this map?
50% of the households living in the orange counties are without internet.
Those living in the blue counties aren't faring much better…
One out of every two people – that's 162 million Americans – now have a slow internet connection…
This isn't just happening in the U.S., either, but ALL OVER THE WORLD…
In China, internet speeds have tumbled 59%...
In India, internet providers have asked Netflix, Disney, and other streaming services to lower their video quality in order to protect their overloaded network…
In the UK, every major wireless data provider crashed on the same day…
In Italy, reports of internet connections going down are surging…
And across other parts of Europe, countries like Germany, France, Austria, and Spain have all seen their internet speeds fall…
In so many words, the lasting effects of the coronavirus are breaking the internet one day at a time.
And unfortunately, even after this crisis is long behind us…
These problems will NOT disappear.
Last year alone, 366 million NEW internet users came online…
Combine this with the fact that we now spend 24 hours a week on the internet...
And check our smartphones 110 times a day (on average)…
It shouldn't surprise you that the internet is under unprecedented strain…
That's Why You've Probably Seen Workers in High-Visibility Jackets Laying New Fiber Cables in Every Town and City in America…
Climbing rooftops…
Digging tunnels underground…
Installing black boxes on every streetlight…
Under every lamppost…
Even on top of churches.
Maybe you've seen strange cell towers disguised as trees being erected around town.
There's a reason all of this is happening…
America's internet needs an upgrade, and…
This Upgrade Has a Name – 5G.
It stands for the fifth generation of mobile networking.
By now, you've heard of 5G a million times over.
You've seen the billboards.
You've seen the commercials.
You've seen the hype campaigns.
But unfortunately, before the coronavirus, there was NEVER an urgent need for 5G.
It was just a lot of hype and spectacle.
Driverless cars…
Holographic phone calls…
Augmented reality…
Automated farms…
5G has been in the headlines for years…
And touted as this incredible technology with far-reaching implications.
That's why every smartphone manufacturer and internet provider has been pouring insane amounts of money into 5G.
($100 billion to be exact, with another $175 billion on the way.)
But the truth is unless you live in a major city like New York, Chicago, or Los Angeles…
And you happen to work for some Fortune 500 company…
You've never used 5G. It may as well be another symbol on the periodic table of elements…
What's even more surprising is that for a technology that has been in the news for years…
Only 1% of all smartphones even have 5G compatibility at the start of the year. By the end of 2020, that number is only expected to go up to 4%…
The Chances That You're Using 5G Right Now Are Slim to None.
But That's About to Change – and Fast.
If the coronavirus has proven anything…
It's that 5G isn't just another tech upgrade…
It is a necessity… a requirement… an essential mandate.
Not just because it's 200 times faster than 4G…
Not just because it reduces latency and eliminates delays…
Not just because it extends your smartphone's battery life…
But…
Because 5G Can Save Lives…
MILLIONS of Lives.
Unlike any other technology…
5G has the ability to connect a million devices in the same area to the same network…
If you only use the internet to send text messages and post memes on Facebook, that fact means absolutely nothing to you right now…
But it will.
If you live 10 miles from the nearest hospital…
And you happen to get tested positive for the coronavirus at some point in the future…
With 5G, your doctor can help treat you remotely.
This not only helps free up space in hospitals….
It reduces infection rates by allowing people to stay home to be monitored as if they were in an intensive care unit. And that goes for anything, not just the coronavirus.
This is why 5G has finally become relevant after so many years of being irrelevant…
With 5G, doctors can now review test results and transfer MRIs within seconds…
They can see a person's health trajectory without meeting them…
Prescribe early intervention treatments from a distance…
And even use robots to deliver medicine, food, and to disinfect rooms.
You may think this sounds like nothing but a bunch of sci-fi mumbo jumbo…
Something we're years away from.
But it's happening right now, all over the world…
China is now using 5G to diagnose patients in remote villages.
Surgeons are using 5G to implant neurostimulators into people's brains who live 1,900 miles away.
Ambulances have been upgraded into small mobile hospitals…
South Korea has used 5G to track the spread of the coronavirus and contain it…
And in the U.S., hospitals like the VA's Palo Alto hospital are using 5G to treat and diagnose patients through telemedicine…
This is why…
The FCC and U.S. Federal Government Have Just Launched a New $10 BILLION Initiative to Accelerate the Deployment of 5G Across the Country…
They Call It the 5G FAST Plan.
And this FAST Plan is the reason you finally have the chance to make real money from 5G... $125,000 just as quickly as the 4G stocks delivered their returns.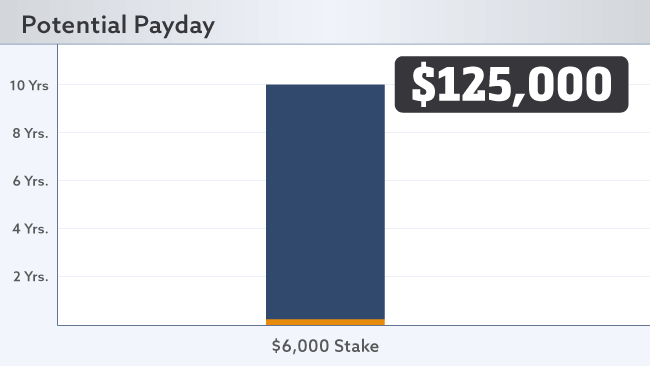 See this bizarre-looking diagram?
What you are looking at is the wireless spectrum.
Controlled by the federal government, the wireless spectrum is a collection of invisible frequency bands – or "airwaves" – that allows signals of all kinds to be beamed across America...
The turquoise blocks are for TV and radio broadcasting signals…
The purple blocks are for mobile devices…
The yellow blocks – astronomers.
The pink blocks – space research.
The blue blocks – aeronautical navigation, and so on…
The easiest way to understand how the wireless spectrum works is to think of each of these colored blocks as a highway…
But it's NOT cars on these highways, it's signals.
And just like any highway system…
These roads can't cross over one another. They need to be kept separate so that the data travelling on them can reach its destination without roadblocks or disruptions.
For instance, the "black box" in a plane uses this highway to transmit data over long distances.
Amazon robots use a "highway" like this one to carry data over shorter distances.
5G uses this "highway" right here.
Even in this diagram, you can see how short it is…
This "Highway" Is the Reason Why 5G Has NEVER Been Able to Penetrate the Mainstream.
In so many words…
Unlike the current internet you use, 5G cannot travel long distances.
That's why unless you live a few blocks from a 5G cell tower – within 200 meters to be exact – you can't use it.
Look at this map of Silicon Valley…
It's around the corner from my office.
See the circle?
This is the distance a 5G wireless signal can travel…
About a 600-foot radius – or two blocks.
And that's ONLY if the 5G cell tower has a clear, direct line of sight to where it needs to go.
5G can't penetrate through walls or barriers…
So if there are buildings… trees… even other people within this circle… then you can forget about having any kind of functioning internet connectivity.
Now let's zoom out.
If you squint, you can probably still see the 5G circle of coverage.
It's MUCH smaller now.
That bigger circle around it is the area a single 4G cell tower is able to cover…
A 10-mile radius from Belmont to Santa Clara…
And out over the inner San Francisco Bay…
Big difference, right?
Just one 4G cell tower could cover almost all of Silicon Valley…
Whereas one 5G tower can only cover a couple blocks.
That's why these 5G cell transmitters I showed you earlier…
Are being rapidly installed on streetlamps, rooftops, and traffic signals.
These little boxes are like miniature cell towers…
And when placed within 200 meters of one another, they boost the 5G wireless signal tremendously.
However, not everyone lives in a major city.
And not every city can cover itself with mini 5G cell towers.
Most places don't have streetlamps, traffic lights, and high-rise buildings at every corner.
Another thing is that these cell towers are extremely expensive.
According to industry data, it could cost $1.2 trillion to cover America with enough cell towers to give everyone access to 5G.
Not to mention the fact that these 5G cell towers contain radio units and antennas that are almost exclusively made in China…
And exports from China to the U.S. have collapsed 36% since this pandemic began… and will likely continue to drop after this crisis is over. So…
Putting a Cell Tower on Every Streetlight and Lamppost in America Just Isn't Realistic Right Now.
Look at this 5G coverage map in Manhattan.
The dark lines show you where you can get 5G connectivity.
As you can see, even in a tech hub like New York…
5G still has a long way to go.
That's why in order…
To Put 5G on the Fast Track…
The Pentagon Is Forcing the U.S. Military to Give Up Exclusive Control of the Most Powerful Block of Wireless Spectrum.
This wireless spectrum is called the C-Band.
A frequency that allows data to not only travel at super speeds but at great distances AND through any number of obstacles like walls and trees.
This is what makes today's opportunity so exciting…
And the reason why you have the chance to make up to $125,000 end just as fast as the 4G stocks delivered their returns.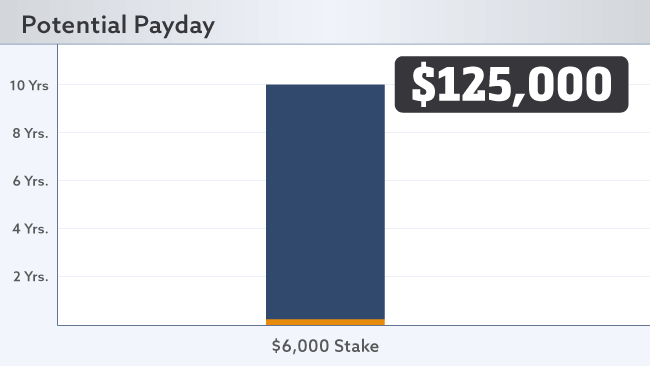 5G Is About to Finally Make Its Way into the Mainstream.
As an advisor to 12 high-tech startups…
And a former advisory board member on a Silicon Valley venture capital firm…
I'm maybe the only person alive who knows which companies will benefit most from this $10 billion FAST Plan initiative.
Until now, the Pentagon has had near total control over the C-Band.
They've been using it for radar operations, battlefield communications, and to network U.S. embassies together around the world.
But now…
At the Pentagon's own recommendation – and by the approval of the president…
The government will begin to transfer access of the C-Band to private companies.
Companies that can make 5G accessible to everyone, including the 5,198 hospitals that desperately need this technology right now.
So Who Will Gain Control Over These Frequencies?
Who Will Be the Future Gatekeepers of America's Internet?
Most Importantly, How Can You Make $125,000 from the ONE Technology America – and the World – Desperately Needs Right Now?
Here's your answer…
As I mentioned, my name is Michael Robinson. I live and work in Silicon Valley…
And over the past few years, I've seen this small slice of America become the epicenter for 5G technology.
But it wasn't until the coronavirus shut down our economy…
Infected over 1,000,000 Americans…
Put 16 million people out of work…
And forced 297 million Americans to stay home…
That the need for 5G became so dire.
The internet is cracking as you've now seen…
And 5G is the ONLY technology that can help solve the problem.
Doctors can't treat you unless you go into a hospital and risk exposure…
And 5G is the ONLY technology that can help solve this problem too.
That's why my team and I spent the last three months…
Despite everything that's happening in the world right now…
Talking with every tech CEO I know…
Attending every conference call…
And reading every transcript we could get our hands on…
To find out which companies will finally bring 5G into the mainstream and benefit from this new $10 billion government initiative.
An initiative that will FINALLY put 5G into action.
I now have the very document that contains names and details of the companies who are first in line to reap the rewards of the government's new 5G FAST Plan.
It's called The Final Push for 5G.
It tells you exactly which stocks I believe are poised to soar from the moment 5G finally hits the mainstream…
Now, to be clear…
I'm not going to tell you to buy stocks in giant companies like Apple, Verizon, Samsung, or Comcast.
These are great companies, there's no doubt…
But they're not likely to make you $125,000 as fast as the 4G stocks delivered their gains.
On the contrary, the opportunities in this briefing are not household names.
A lot of them are so obscure that unless you live in Silicon Valley like me…
You're not going to read or hear about them from anyone else. But…
These Are the Exact Companies That Could Triple, Quadruple, or Make You 10 Times Your Money as 5G Finally Makes Its Way into the Mainstream.
That's because these specific companies all have something in common.
They are ALL playing an integral role in building out the 5G network.
Because even with the C-Band in the hands of America's private companies…
Experts are predicting 5G will require at least 1.4 million miles of fiber cable…
And 520,000 cell towers.
Like I said, nationwide 5G is only possible WITH the C-Band.…
But make no mistake…
It takes all of these things TOGETHER to ensure that 5G can go mainstream. That's why…
On Page 4, I'll Tell You About a VERY Small San Diego-Based Firm That's Cornering a $33.4 Billion Part of the 5G Market.
In so many words, this company makes the new fiber cables that transfer data at high speeds to 5G cell towers.
Without these fiber cables, the tens of thousands of 5G cell towers that have already been installed throughout America simply will not function.
As the former CEO of a $2 billion wireless firm admitted, "Without these cables, there is no 5G, period."
And because of the new 5G FAST Plan…
This tiny company now has contracts to build out the 5G network for the largest "Tier 1" wireless carriers in America – a group that includes the likes of Verizon, AT&T, T-Mobile, and Sprint.
In fact, their CEO has already doubled the company's revenue over the last year…
And this is BEFORE the Pentagon began transferring the C-Band over to private businesses.
So you can only imagine what kind of money this company could make going forward…
Not only are they acquiring other businesses at lightning speed…
They're also expanding their product line beyond fiber optic cables.
They're building cooling systems, tower enclosures, and power splitters.
The end result?
This small company could leave its footprint on every 5G cell tower in America.
Already, institutions including BlackRock, Wells Fargo, and Morgan Stanley are piling cash into this tiny company – snapping up almost 40% of its shares.
Not to mention company insiders are scooping up as much as they can… buying 102,000 shares over the past few months.
Like me, these guys know that even if the market takes another dive…
Or another spike in coronavirus infections takes place…
This company will probably not be affected in the long term.
Thanks to the 5G FAST Plan, this technology has finally been given the push it's needed.
In fact, when the coronavirus crashed the markets, the largest wireless carriers in America have upped their 5G spending by as much as $4.5 billion.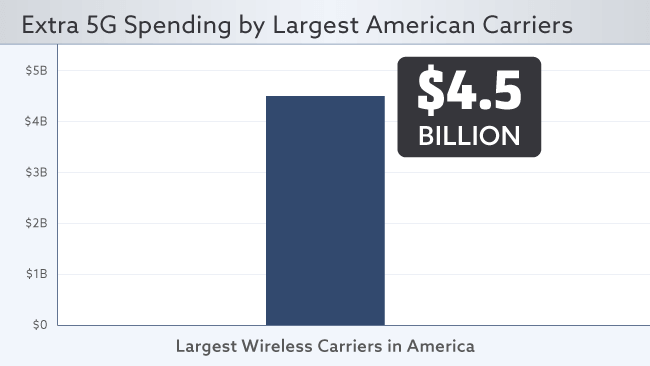 So if you really want to get an idea of the kind of profit potential 5G can deliver…
Look at what happened with 4G.
In 2009, after the market dropped by more than 30%, just like it did earlier this year in 2020…
4G was just hitting the market.
One company was raking in a fortune – Avago Technologies.
Just like this tiny San Diego firm I've been telling you about, Avago made critical 4G components…
"Cellular power amplifiers" that boosted signals from cell towers.
And look at what happened to the stock. It went crazy, rising 2,048%...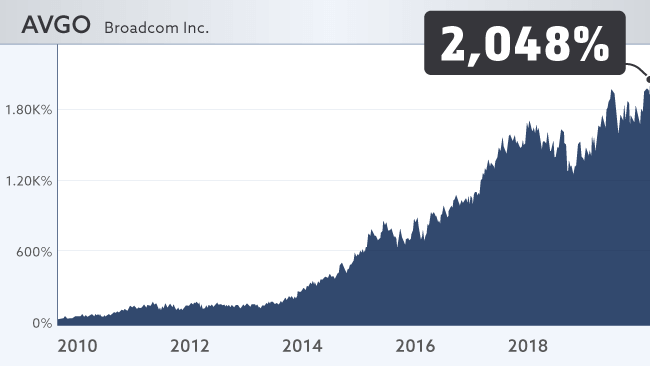 Avago wasn't the only company that played an important role in getting 4G into the market.
Another company, Sierra Wireless, created 4G routers to bring the internet to harsh, outdoor places – like the 2.4 million miles of pipelines that crisscross America.
Their stock skyrocketed 1,685%.
VirnetX licensed out patents for the technology that kept 4G secure from cyberattacks.
Its stock saw a 1,116% surge.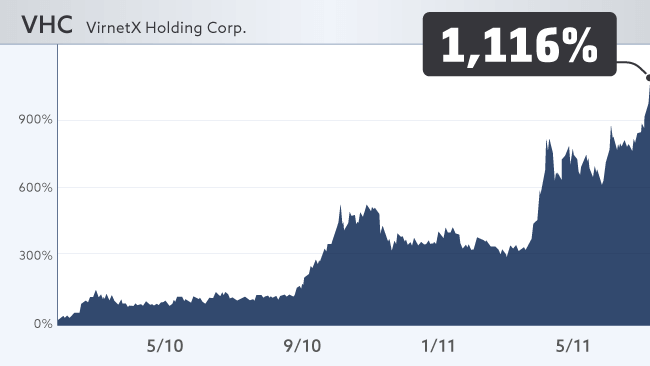 CEVA sold "vector digital signal processors" that enable 4G cell towers to handle higher data speeds.
Their stock soared 840%.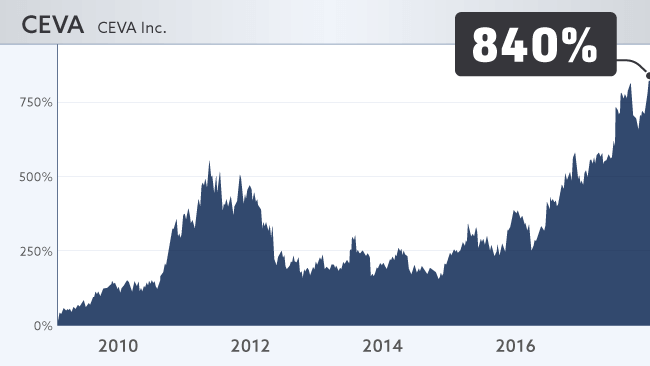 And MasTec – another company involved in 4G components from the very beginning…
Saw their stock launch 653%.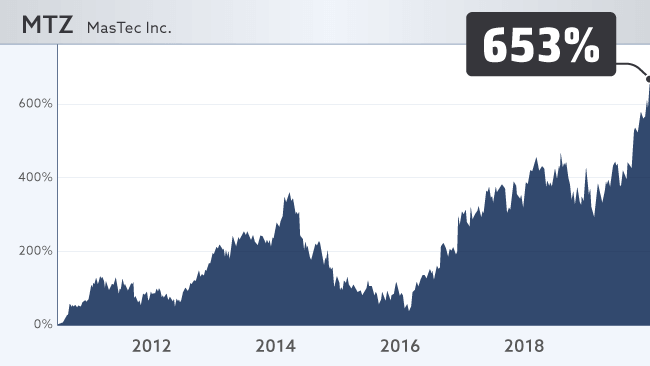 Granted, these are some pretty remarkable returns that come from some of the best companies in the market.
So while these companies soared, there are no guarantees that the companies I am going to share with you today will do as well.
But if history is anything to go by – then choosing the best of the best 5G companies can be incredibly profitable for you.
In my briefing, The Final Push for 5G, we'll start with one of these best-in-class companies.
You'll receive all my full research on this tiny San Diego firm that is at the heart of this 5G rollout.
And by the way, did I mention this report is over 30 pages long?
Well, it is.
But there's a reason for it.
With the C-Band being transferred as we speak…
5G is finally going mainstream.
It's going to be the single largest tech upgrade in recent history.
But…
In Order to Bring 5G to the Masses…
You Need More than Just a Few New Fiber Cables, Cell Towers, and Component Makers…
You Need 5G Chips.
Remember when I said earlier that only 1% of all smartphones have 5G chips inside them at the start of the year? And that by the end of 2020, only 4% of smartphones will have 5G chips?
Well, that's about to change, and fast…
As literally every smartphone maker in the world rolls out new 5G-enabled smartphones.
This means that if YOU want to use 5G…
The phone you're using right now will have to be replaced.
You're going to need a 5G smartphone.
If you ever get sick and need medical treatment but don't want to go to a hospital…
You're going to need a 5G smartphone.
If you want to download full-length movies in less than five seconds…
You're going to need a 5G smartphone.
If you want your car to drive you from point A to point B without pushing the gas pedal…
You're going to need a 5G smartphone.
And most importantly…
If you want to continue using the internet – whether you're on a bus, in an elevator, or stranded in some remote place in Arizona…
You're going to need a 5G smartphone.
This is why EVERY major phone maker from Apple and Samsung… to Google and LG… is throwing a combined $41 billion into producing 5G phones starting now.
With 145 million NEW 5G-enabled smartphones destined to make their way across North America between now and 2023…
And each group of 5G chips costing as much as $70 a piece…
We're talking about the potential for just over $10 billion in new revenue from the mass production of 5G chips.
After meeting with one industry insider recently – a master dealmaker in the wireless space who just orchestrated a $309 million acquisition…
I Know the ONE 5G Chipmaker That I Believe Is Poised to Reap the Highest Reward.
They've just won major contracts with Apple, Samsung, and Huawei to embed their 5G chips into millions of new smartphones.
And not just phones…
This company is also in talks with Audi, Ford, and Nissan to incorporate their 5G chips into the latest "connected cars."
These are vehicles that can communicate and share data with other vehicles on the road…
Which in turn, could reduce traffic accidents by up to 94%.
Again, I know this may sound like science fiction…
It's not. According to Gartner, we'll see 250 million connected cars on the road by this time next year…
And insiders are already expecting this to be a $4 billion sweetener for this 5G chipmaker.
Once this information becomes mainstream, this company could take off over 450%.
How do I know?
It's happened before.
Look at Icera.
They sold 4G "baseband chips" back in 2008.
And were snapped up by Nvidia for $367 million.
Folks who saw what was happening could have booked over 3,000% gains.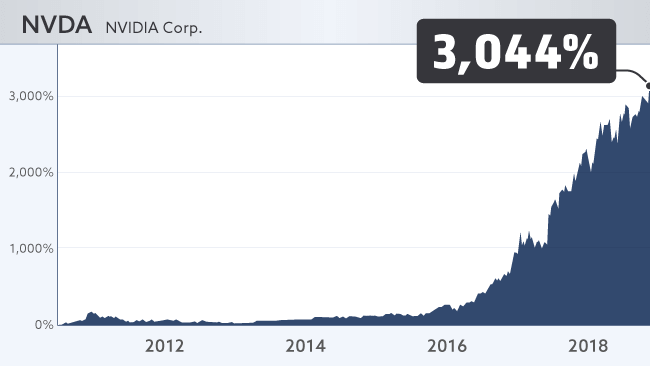 TriQuint was another success story.
They built 4G chips that were used in iPhones.
As a result, their stock soared 603%.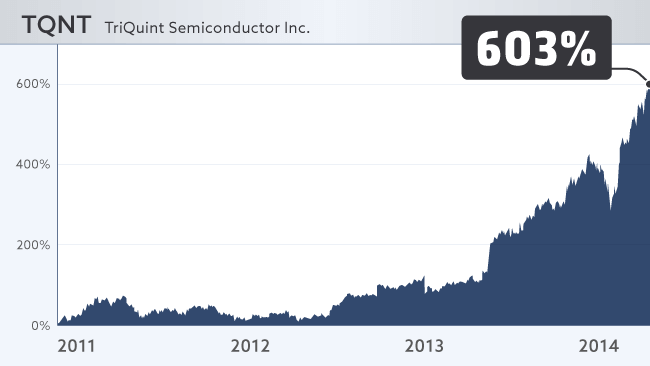 There's also Micron Technology – they made 4G "memory chips."
Their stock skyrocketed 446%.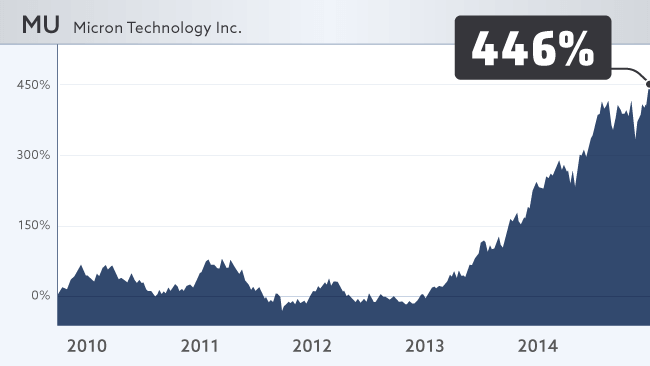 Again, truly rare and exceptional gains like these only come from the best of the best companies.
And while I can't claim to see into the future…
I have spent over three decades in Silicon Valley surrounded by the most innovative technology companies in the world.
Over this time, I've learned what makes a firm best of breed in its industry.
They have great products that are ahead of their time, they have visionary leaders, and they're always on the brink of cornering a multibillion-dollar company.
To be sure, some of these are smaller companies.
And they may be more volatile.
So in a case like that, you should only put in a small amount of your investing capital.
In my new briefing, The Final Push for 5G, you're going to get every little detail I've gathered on a group of world-class 5G chipmakers over these last six months…
So that you can hopefully benefit from the MILLIONS of new 5G-enabled smartphones that will quickly make their way across America.
But like I said earlier…
In order for a technology of this magnitude to make its way into every town and city in America…
You need more than just new fiber optic cables, 5G cell towers, component makers, and even 5G chips.
You Also Need 5G Real Estate.
Because every time you use the internet, you use data.
And this data needs to be stored somewhere.
Without the server warehouses, data centers, and cooling towers that house all of the data that you and everyone else uses every time you access the internet…
You couldn't make a single download, stream, or Google search.
That's why I'm certain investors will pile into 5G real estate companies just like they did with 4G real estate.
Take a look at Equinix.
They own 85 data centers, and they played a critical role in connecting 4G data to your smartphone.
The stock has shot up 799%.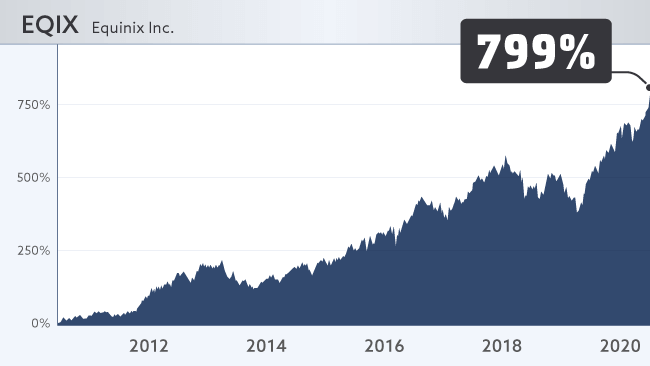 Akamai provided "edge servers" to AT&T.
These servers were installed as part of a cell tower to boost data speeds.
The stock took off 525%.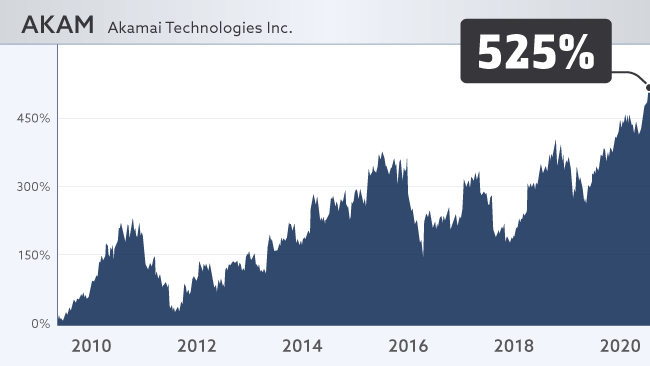 I've spent the past six weeks looking over satellite images in order to uncover where the hottest 5G real estate in America is located…
Who owns it…
And what it's worth.
I've Uncovered One Company That Now Owns More than 80,000 Miles of Fiber Cables and 40,000 Cell Towers with Plans to Add 10,000 More 5G Towers This Year.
The major phone carriers have already handed this company $24 billion to lease their 5G real estate…
But this is just a drop in the bucket once 5G rolls out nationwide.
Few people know this…
But this company has just entered into a partnership with AT&T, Sprint, T-Mobile, Qualcomm, Nokia, Ericsson, Samsung, and virtually every other big name in the industry.
That's probably why one of the richest billionaires in America injected $627.5 million into this business.
So take it from me…
He knows (as do I) that as the red carpet is laid out for 5G thanks to the Pentagon…
And as 5G finally makes its way into every town and city in America…
The few companies that own 5G real estate are going to become CASH KINGS.
And investors in these companies will take their own slice of this fortune.
Just like with every other opportunity I've told you about today…
You'll get the full details on this company – and one more 5G real estate play – inside my briefing: The Final Push for 5G.
And of course, as you've seen…
5G Isn't Just Happening in America.
The Entire World Wants 5G.
China will spend $223 billion to push 5G across the country…
Japan is spending $129 billion…
South Korea – $58 billion…
India – $30 billion…
Europe – $10.7 billion…
That's why on page 13 of your special briefing, I'll show you how to profit as 5G expands into dozens of countries around the world.
Don't worry, these aren't foreign businesses.
They're based in the U.S. and listed on the NYSE.
One of them has more than 945 MILLION customers across Asia…
80% of which are still stuck using 4G.
That's 756 million people who don't have access to 5G but will soon get it.
If we do the math…
Even if just half of those folks switched over to 5G in the coming months…
This company could lock in as much as $385 billion in new revenue.
That's a 259% increase over last year.
How high could this revenue surge take the stock?
Higher than you think.
Silicon Motion, a U.S. stock with offices in California, Hong Kong, and Taiwan, shipped 4G transceivers around the world.
As 4G spread across the world, their stock skyrocketed 2,082%.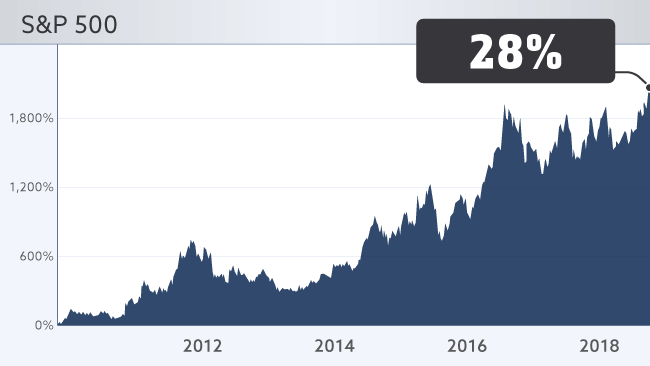 Skyworks Solutions, another U.S. stock, sold 4G components across France, Canada, Mexico, and China…
Delivering early investors a 680% return.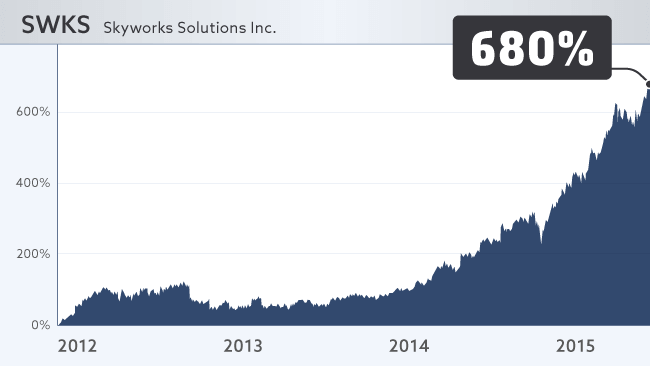 And before I forget…
In my new briefing, The Final Push for 5G…
I'll Also Tell You About the ONE Company That's Poised to Win Control of the C-Band – the Most Powerful Frequency on the Wireless Spectrum.
How do I know they'll win?
This company has been secretly building out a nationwide 5G network with the federal government for years.
The catch is this network is not for folks like you and me to use…
It's for the most high-priority federal missions in law enforcement, disaster response, and homeland security…
Because if anyone truly NEEDS 5G… it's these folks.
Police… FBI… CIA agents… paramedics… firefighters… doctors… nurses… and anyone else who has to make critical life-or-death decisions every second of the day.
This 5G network has already been 75% built out.
Which means now that the Pentagon is beginning to give up exclusive control of the C-Band…
This company will likely be the first to take 5G into the mainstream.
And will potentially see their stock double as a result.
So as you can see…
5G Is No Longer Just a Tech Upgrade…
It's a Necessary Upgrade…
One That Can Save Countless Lives Today and Far into the Future.
That's why no matter if the market takes another hit…
Or whether we experience another spike in infections or not…
The companies at the heart of the government's new 5G FAST Plan initiative will likely see their shares explode.
How do I know?
Just look at what you could have made with $6,000 split evenly and invested in a handful of the best 4G stocks I've been telling you about.
$1,200 into VirnetX would have transformed into $14,592.
$1,200 into Sierra Wireless delivered $21,420.
$1,200 into Avago would have handed over $25,776.
$1,200 invested with Silicon Motion returned $26,184.
And the remainder of your original $6,000 investment – another $1,200 – staked on Nvidia would have delivered $37,728.
Altogether…
If You Knew These Companies Would Be 4G Winners…
You Would Have Locked In a Massive $125,700.
I'll say it again: $125,700.
Now, as I said before, smaller stocks can be more volatile.
Winners aren't guaranteed.
There's always risk.
And you should never invest more than you can afford to lose.
But that doesn't mean these kind of gains can't happen again – when you invest in the best companies like I've shown you today.
When 4G hit the market in 2009, we were in the middle of a financial crisis.
At the same time, MILLIONS of lives weren't on the line like they are now.
The entire country wasn't reliant on the internet like we are today.
5G is nothing short of a REQUIREMENT.
That's why I believe there's a potential six-figure payday on the table for folks who strike while the iron's hot.
This document took me six months to put together:
My team and I made about 50 phone calls…
Dug through more than 60 investor presentations…
And read just as many balance sheets in order to bring you this information right now.
That said, the information inside this report (in my eyes) is worth MILLIONS.
You could easily argue that it's worth over $500… and even at that price, it would still be a bargain.
But with everything that's happening right now…
With so many people affected by this pandemic…
Greed is the last thing on my mind.
So I'm giving you a chance to claim a copy at no additional charge.
Truth Be Told…
You May Never See Another Opportunity like This in Your Lifetime.
And I don't want you to miss out because of some petty fee you don't want to pay.
Before the coronavirus made landfall in early 2020, our economy was strong…
And when we beat the coronavirus once and for all, it will bounce back even stronger than before.
So mark my words:
If You Like What You See, Take a Position NOW – and You'll Mark 2020 Down as the Most Profitable Year of Your Life.
There's only one condition.
I put way too much time and energy into this briefing to make it available for mass consumption.
So yes, I may be giving you this briefing at no additional charge…
But in return, I need a commitment from you.
And that commitment involves becoming a subscriber of the Nova-X Report.
This service isn't just about helping you make money anymore.
It's about helping you protect your wealth too.
With the Nova-X Report, I'm dedicated to finding new ways that make you money – a boatload of money – in any market, good or bad.
Since launching the Nova-X Report, we've made money every single full year.
In fact, our returns have grown BIGGER year after year since 2016.
Last year in 2019, readers had the opportunity to close out 24 double- or triple-digit winning trades out of 31 total trades.
I delivered gains like 372% on Veeva... 354% on Twilio… and 328% on Trade Desk…
And this might surprise you – but this year, we're on track to close out even more WINNERS.
I won't ignore the fact I've had losers. We all have.
You can't avoid them.
The difference is my losers are SMALL.
In fact, my biggest loser on record since 2016 is a mere -27%.
At the same time, I've handed my readers THREE winning trade recommendations that could have doubled their money in 2020.
In a year where people have seen their 401(k)s whittle down to nothing…
I'd say those are pretty good results, if not excellent.
But I'll let you make that call.
If you decide to join me, you'll get a copy of my new briefing: The Final Push for 5G.
But it doesn't end there…
I've Also Been Working on Another Special Briefing…
It's Called The 2020 Data Profit Plan.
Inside this document, you'll discover how to cash in on America's insatiable appetite for data.
Given the fact that we now spend an entire DAY on the internet per week…
Along with the fact that MILLIONS of people are now working from home, learning from home, socializing from home, shopping from home, even entertaining themselves from home…
Data use has exploded.
In fact, with 421 million data plans in America right now…
The amount of data used on average has increased 2,650% between 2010 and 2019.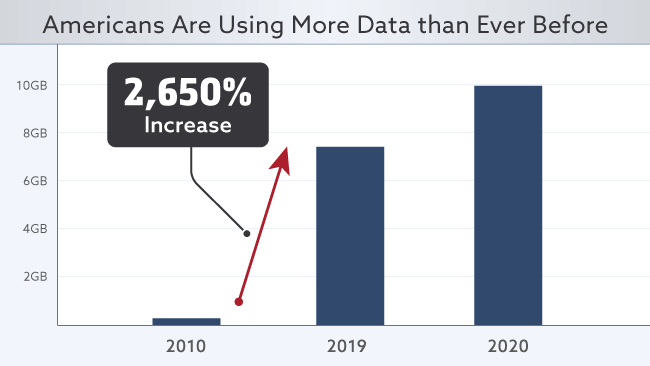 And now in 2020, with the country more dependent on internet connectivity than ever before, mobile data usage has jumped by another THIRD.
So you have to ask yourself: Who profits most from this increase in data?
It's not AT&T or Verizon…
It's not a big tech giant like Microsoft, Google, or Amazon…
It's the folks responsible for storing data in the "cloud" – and transmitting it straight to your smartphone.
The ones who own HUGE warehouses (like these) filled with rows of computer servers.
In fact, some companies report use of the "cloud" is up 775%.
But data usage is set to more than DOUBLE again once 5G reaches every American.
So these server warehouses are more important than ever before…
And the firms who own them are still collecting rent from customers who store their data here.
Companies like Verizon, Comcast, and CenturyLink.
In turn, they distribute this money to investors.
Inside my new briefing, The 2020 Data Profit Plan, I'll tell you about TWO server warehouse companies handing out regular payments to folks like you and me.
They've made these payments since 2013…
And now you can get paid from soaring data usage in America too.
If You Choose to Subscribe to the Nova-X Report…
You'll Get The 2020 Data Profit Plan at No Extra Charge Today.
And of Course, You'll Also Get My New Briefing, The Final Push for 5G.
That's two reports – both yours for no extra charge.
Normally, I would never do something like this.
But these aren't normal times…
And I don't expect things to return to "normal" any time soon.
To me, remote access is the new normal.
Working from home is the new normal.
Socializing on Zoom is the new normal.
Attending classes online is the new normal.
Watching concerts and movies from your own home is the new normal.
If anything, the coronavirus has only accelerated this trend 10-fold.
If you disagree with me, that's fine.
You don't have to agree with anything you don't believe in.
But you can't deny the facts either.
And right now, the fact is…
The internet is critical to our survival.
Without it, our economy would shatter into a million pieces.
That is why the 5G FAST Plan was put into action.
With the internet showing extreme signs of fatigue and overuse…
We need 5G now more than ever before.
The government knows it. Hospitals know it. Doctors know it. And tech CEOs here in Silicon Valley know it.
My Two Briefings…
The Final Push for 5G and The 2020 Data Profit Plan…
Are Designed to Make You Money from the Fast-Track Implementation of 5G into America.
Depending on how much you invest, we're talking up to $125,000 endas fast as the 4G stocks handed over their returns.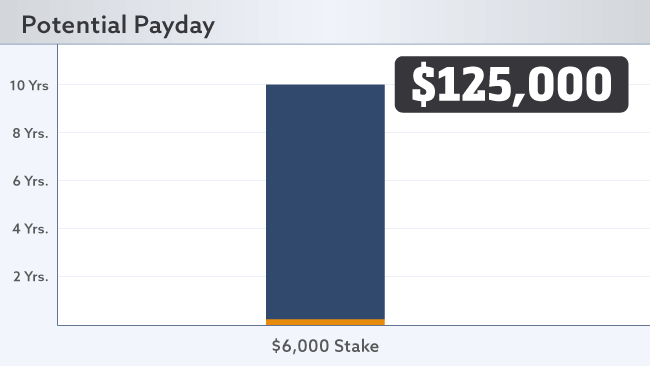 These reports are yours at no extra charge as long as you're willing to give me a commitment.
But you should know that I'm only authorizing 500 new spots in the Nova-X Report today.
I wish I could open more spots…
But I have a duty to my existing readers.
If I bring in too many new faces, it could mean that not everyone has a fair shot at my recommendations.
That wouldn't be fair to my existing readers.
That's why I'm only opening up 500 spots today.
But for the folks who do make it inside…
You'll be given instant access to all of my research and analyses in both of the briefings I've promised:
The Final Push for 5G and The 2020 Data Profit Plan…
And through the Nova-X Report, I'm going to be with you over the next 12 months… every step of the way.
I'll keep you updated as the C-Band is handed over to America's top 5G companies…
I'll let you know what I'm seeing in the markets and what it means for your money…
And I'll work virtually day in, day out to see you have a chance to at least become $125,000 richer in about the same time it took the 4G stocks to pay out.
One way I'll do that is by opening up access to my network of Silicon Valley CEOs, investors, and board members…
Because no matter what's happening the world, technological innovation DOESN'T stop.
In fact, we recently saw $6.2 billion in tech investment within seven days.
And…
Through My Network, You'll Get a First Look at Some of the Most Exciting Technology Investment Opportunities.
In areas like: Quantum computing, advanced military weapons, genomics, the blockchain, life-saving medical devices, and artificial intelligence, just to name a few.
I'll bring at least one special briefing with all of my research and analyses to you through the Nova-X Report each month.
Plus, you'll get regular updates on 5G, the market, and the American economy.
I'm also going to be in contact when it's time to collect any profits through a Cash-In Alert…
I'll give you detailed instructions each time.
And to make sure you don't miss a thing…
I will send each alert directly to your email. You'll also have the choice to receive cell phone text notifications as well.
Plus, I'm going to ask you to check in regularly over the next year.
I want to know how you're doing… how you're using my research to protect yourself… and how much money you've made from my recommendations.
Whatever you have to share, I'm ready to listen. I'll even answer the most asked questions by readers.
As a member of the Nova-X Report, you're also going to receive 24/7 access to the Nova-X HQ.
This is your personal "mission-control" – where you can access every special briefing, update, and Cash-In Alert.
So if you ever miss anything – you can simply log in and get up to speed.
Inside the Nova-X HQ, you'll find the Model Portfolio – where you can keep track of all my recommendations in one place.
You'll also have direct access to a massive network of bold tech investors through a networking forum I call the Nova-X Connection.
It's a hive of activity with smart folks from all walks of life discussing the latest technology opportunities, their most recent wins, and much more.
You're welcome to join the conversation from day one.
Now, as you can tell –
This Is a Comprehensive Research Service…
And You're Going to Get Access to Everything.
There are no hidden doors with me.
The Final Push for 5G and The 2020 Data Profit Plan…
All of it is yours at no cost from the moment you join the Nova-X Report.
By now, you're probably wondering how much it costs to subscribe.
I think you'll be pleasantly surprised.
The retail price to join Nova-X Report is $299 a year…
But like I keep saying, these aren't normal times.
I'm trying to protect people, not empty their wallets.
It's my duty as an American to help my fellow citizens – and I certainly can't do that by charging an arm and a leg in a year like this.
That being said…
Today You Will NOT Be Paying the Normal Retail Rate of $299.
You won't be paying the discounted rate of $250 either.
Not $200. Not $150. Not $100. Not $75. Not even $50.
Below is a link to a brief subscription form.
It contains every detail you need to know before joining…
How much it costs (and, if you ask me, the price is so low it's almost a joke)…
You'll also get a full rundown of what you'll receive as a subscriber of Nova-X Report…
And another special surprise that is REALLY going to floor you.
But listen – this is a time-sensitive opportunity.
There are only 500 Nova-X Report subscription slots available today.
If you don't claim one, you may never get this chance again.
If you have any questions about the service and how it works, I encourage you to contact our reliable customer service team at 855-509-6600 or 443-353-4770 (for international calls) and mention Priority Code: WNVXW846.
So don't waste another moment.
Hit the button below, and I'll see you inside.
June 2020